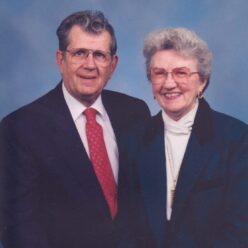 Founded by Mr. Roney in honor of Mrs. Roney to support and honor veterans.
Married for 57 years, Walter and Naomi Roney had a daughter and two sons, and both proudly served their country and the Frederick community. When Naomi passed away in 2004, Walter created a memorial fund in her honor, and that fund is now The Naomi A. and Walter L. Roney Fund. The fund supports and honors veterans in Frederick County.
A Walkersville native, Naomi A. Roney served with the U.S. Navy Waves during World War II, working for the Judge Advocate General's Office General Court Marshall Division in Washington, DC. After the war, she served as a member of and Sunday school teacher at All Saints' Episcopal Church, a life member of the Frederick Memorial Hospital Auxiliary as well as an Inner Wheel member and Paul Harris Fellow of the Rotary Club of Frederick. From 1978 to her retirement in 1991, she was employed by the Frederick County Board of Education.
Walter L. Roney graduated from Frederick High School and went on to serve in the Marine Corps in World War II and the Korean War. He worked in the family business, Roney Motor Company, and after that was sold in 1978, he worked at other car dealers until he retired in 1991. He was known for his work with and dedication to the Boy Scouts of America, the Shangri La detachment of the Marine Corps League in Frederick County, the Rotary Club of Frederick and the American Legion. Walter passed away on Feb. 19, 2022.