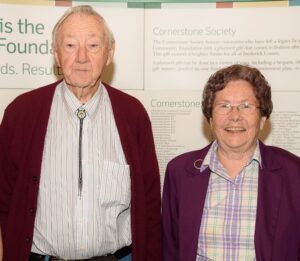 FREDERICK, MD – Aug. 23, 2023: The Forest Lee Hough and Alice Jean Stine Fund has been created with The Community Foundation of Frederick County to support the Salvation Army's local initiatives.
Founded by Ms. Stine, the fund honors Forest, her life partner of over 60 years. Forest was a Montgomery County school bus driver and he helped run the family business, Hough Orchards, in Dickerson, Md. He was also a longtime member of the Poolesville Odd Fellows Lodge #97. He passed away in February at the age of 91.
Both supporters of the Salvation Army, Forest and Jean often shopped at the Salvation Army thrift store.
"I learned of the Salvation Army services and I shopped at its thrift store to support their efforts," Ms. Stine says. "Often while I shopped, Forest would enjoy talking with the staff. When Forest passed away, I wanted to honor his memory with a special fund and I think he would be pleased to have this fund in our names that support the greatest needs of the families that Salvation Army is serving."
The Salvation Army serves families and individuals in various ways, such as the retail thrift store, disaster relief services, and emergency and housing assistance. The fund will support Frederick County initiatives.
This fund joins another fund created in Forest's name. In 2012, Forest created The Forest L. Hough Endowment Fund to support scholarships for students graduating from Brunswick and Poolesville high schools, majoring in horticulture, agriculture, trade and/or technical fields, divinity or a divinity-related field. Because of these funds, both Forest and Ms. Stine will continue to impact the Frederick County community today and for generations to come.