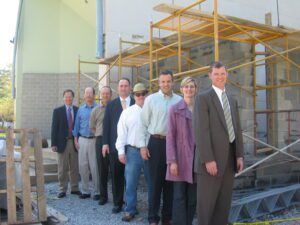 Frederick County's Rotary Clubs are stalwart pillars of community service, exemplifying the true spirit of altruism and collaboration. There are seven rotaries in Frederick County, and they have not only demonstrated their commitment to serving the community, but several have also found a steadfast partner in The Community Foundation of Frederick County. These partnerships have led to the funding of grants that support numerous local nonprofits, making a profound impact on the lives of residents.
Rotary Clubs have a long-standing history of serving communities around the world, embodying their motto, "Service Above Self." These clubs bring together individuals from diverse backgrounds, united by their passion to effect positive change.
The Rotary Club of Frederick, with its rich heritage and unwavering dedication, stands as a prime example of the impact that a collective group of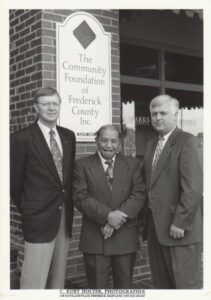 committed individuals can achieve. Important to the Rotary Club of Frederick's impact are the six endowed funds it created with the Community Foundation, including The Rotary Club of Frederick First Century Trust Fund and The Rotary Club of Frederick/W. Meredith S. Young and Helen B. Young Scholarship Fund. These endowments are a wellspring of resources that enable the Rotary Club to support a wide array of local initiatives, ensuring that their efforts endure for generations to come.
"Because of the generosity of members of our club and the larger community, and the careful management by the Community Foundation, these endowed funds have grown to over $1.1 million," said Greg Rausch, chair of the Rotary Club of Frederick Service Partnerships Grants Committee.
The Rotary Club of Carroll Creek's journey with the Community Foundation began in 1996 with a pass-through fund. This fund served as a catalyst for revitalizing the Band Shell at Baker Park, breathing new life into a cherished community space. Since then, the fund has continued to make a significant impact, providing financial support to more than 50 projects and initiatives. These grants have played a pivotal role in enhancing local parks, cultural venues, and educational programs, ensuring that the community thrives both socially and culturally.
In 2006, the Rotary Club of Fredericktowne established a donor-advised pass-through fund. In recent years, support from this fund has bolstered programs within Frederick County Public Schools. This commitment to education radiates outward, enriching the broader community and fostering an environment of growth and prosperity.
The collaboration between the Rotary Clubs of Frederick County and the Community Foundation has resulted in hundreds of thousands of dollars supporting local projects and initiatives. These synergistic partnerships have empowered these clubs to amplify their efforts, channeling resources where they are needed most. The Community Foundation's role as a custodian of philanthropy aligns seamlessly with the Rotary Clubs' mission, creating a harmonious ecosystem of giving and support.
The Rotary Clubs of Frederick County have steadfastly demonstrated the immeasurable value of service, compassion and unity. Their partnership with the Community Foundation and other local charitable organizations serves as a beacon of hope, illuminating the path towards a stronger, more vibrant community. With endowed charitable funds and a shared vision, these organizations exemplify the power of collective action, reminding us all that the true measure of a community's strength lies in its ability to come together for the greater good.
*Published in The Frederick News-Post on 8/15/2023.