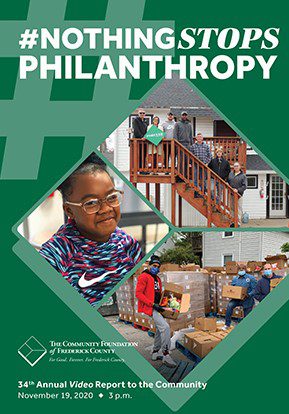 Please join The Community Foundation of Frederick County on November 19 at 3 p.m. for the premiere of #NothingStopsPhilanthropy, a short and exciting video about how we, together, made great things happen in Frederick County in fiscal year 2020.
We can't get together in person this year to celebrate all of the accomplishments, so we are bringing the 34th Annual Report to the Community to you via video. Thanks to the generous support from our community, we continued our important work serving Frederick County during a year that was unlike any other.
Throughout FY2020, the Community Foundation raised money for The Forever Frederick County Fund, our unrestricted endowment that will support our community's most pressing situations as they arise. When the COVID-19 pandemic hit, the Community Foundation responded immediately by providing emergency grant funding to nonprofits that were on the front lines helping people cope with the loss of employment, housing, childcare, and much more. Through generous donors who trust our abilities, the Community Foundation was nimble and responsive to an unpredicted and sudden situation that affected every single person in some way.
The first grants toward our new areas of strategic focus were launched: supporting families with children, preparing for an aging population, and responding to substance use disorder. All the while, our other strategic and impact grantmaking and scholarship programs were alive and well, with many volunteers behind the scenes ensuring the money went into the community and scholars received support for their studies.
We will be sharing more about our work during FY2020 in our video report to the community, as well as honoring our 2020 Wertheimer Fellows for Excellence in Volunteerism. Sally Arnold will be recognized for selfless volunteerism on behalf of such organizations as Calico Clovers 4-H Club, Frederick County 4-H Camp and Activities Center, and Future Farmers of America. Shari Ostrow Scher will be recognized for selfless volunteerism on behalf of Children of Incarcerated Parents Partnership, and Daryenne Elizabeth Dorsey will be recognized for selfless volunteerism on behalf of Frederick County Volunteer Fire and Rescue Association and United Steam Fire Engine Company #3. We will honor these outstanding volunteers for their contributions of time and talent to Frederick County.
2020 has been a year unlike any other. Thanks to the unwavering support from our donors, volunteers, and our community partners and the trust they have placed in the Community Foundation, we have been able to continue our important work and support urgent needs as impacts from the COVID-19 pandemic continue to affect our community. We are well-positioned to continue serving our community into the future, because #NothingStopsPhilanthropy.
On November 19 at 3 p.m., please visit FrederickCountyGives.org/NothingStopsPhilanthropy to view our 34th Annual Report to the Community video.