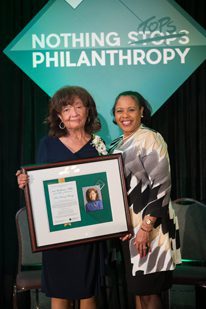 In 1976 President Gerald Ford designated February as Black History Month, calling upon the public to "seize the opportunity to honor the too-often neglected accomplishments of Black Americans in every area of endeavor throughout our history."  The Community Foundation is proud to play a role in telling the stories and helping to preserve the legacy of Black Fredericktonians who have made significant contributions to our community.
Not all of these contributions are historical, they continue to happen every day. The Community Foundation recently recognized Rose Dorsey Chaney as a 2021 Wertheimer Fellow for Excellence in Volunteerism for her work with the African American Resources Cultural and Heritage (AARCH) Society.
Chaney's community service roots run deep in Frederick – she served as a volunteer assistant editor and writer for the County Globe newspaper, an alternate news outlet for women and minorities in Frederick County; she is a member of the Frederick County Equity and Inclusion Advisory Committee; she serves on the board of I Believe in Me; and she previously served on the board of The Religious Coalition for Emergency Human Needs. Chaney is a lifelong member of Asbury United Methodist Church and serves as the church administrator.
In her two decades serving the AARCH Society, Chaney has helped build its programming and exhibits and has been instrumental in creating a robust communications program to bring awareness to AARCH and its mission, through programs such as AARCHways, a shared public exhibit. These programs have created the foundation for the AARCH center, which is currently under development and will provide the public with the opportunity to explore local African American history in ways that bring insight to the present day.
The individuals who nominated Chaney for the Wertheimer award pointed to her commitment to making local history accessible and relatable. "Rose knows that history helps people envision a better future, that democracy thrives when individuals convene to express opinions, listen to others, and take action. She is helping AARCH become a center that weaves history into discussions about contemporary issues, clarifies differing perspectives and misperceptions, reveals complexities, grounds competing views in evidence, and introduces new ideas. All of this can lead to greater understanding and viable community solutions, to the benefit of all who reside in Frederick County."
With her Wertheimer award, Chaney created The David Key Memorial Fund for AARCH Society with the Community Foundation to support the programs and initiatives of the AARCH Society and AARCH Heritage Center.
"The Center is important because it will offer exhibits and programs that will tell the county's authentic African American history and culture that has been seldom told, especially from the people who lived and live it," Chaney said. "Knowing the true past leads to understanding and brings hope for a better future."
The Community Foundation holds other funds to honor the legacy of remarkable, groundbreaking individuals whose contributions to our community are invaluable, including The Dr. Ulysses G. Bourne, Sr. Memorial Scholarship Fund, The Esther E. Grinage Scholarship Fund and The William O. Lee Jr. and Family Endowment Fund. We look forward to continuing to honor the legacy of Black men and women who have helped to make Frederick County what it is today.