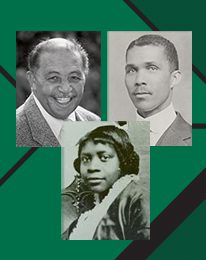 In 1970, the recognition of African American history and its contributions to United States history and culture was expanded to a month-long celebration taking place each February. During our country's bicentennial in 1976, President Gerald R. Ford encouraged Americans to "seize the opportunity to honor the too-often neglected accomplishments of black Americans in every area of endeavor throughout our history."
There are many African Americans who lived or live in Frederick County with notable and significant contributions to our local history, and several of these residents have been honored through Community Foundation funds bearing their name.
The Dr. Ulysses G. Bourne, Sr. Memorial Scholarship Fund was established in 1996 by Dr. Bourne's daughter, Dr. Blanche Bourne-Tyree. The fund provides scholarships for students pursuing careers in medicine or health care related fields. Dr. Bourne was the first African American physician in Frederick County, opening his medical practice on West All Saints Street in 1903. He was known for providing quality medical care and improving life in the African American community, until his retirement in 1953. Dr. Bourne didn't just treat African Americans. According to his daughter, about 80 percent of his patients were white. Dozens of students have received scholarship assistance with post-secondary medical or health care study since the fund opened.
Until 1937, African American children in Frederick County did not have access to kindergarten. Frederick County Public Schools did not offer it, and the private kindergarten that existed at the time did not accept African American children. Community members came together and formed the Esther E. Grinage Kindergarten Association, named for the long-time and well-known Frederick educator. The school was successful, and a bequest left by Marguerite Quinn to the Association eventually became a scholarship fund. The fund was transferred to the Community Foundation by Fredericktown Bank and Trust in 1989 and became The Esther E. Grinage Scholarship Fund.  Again, dozens of students pursuing careers in education have been assisted through scholarships.
Bill Lee's contributions to Frederick County are too numerous to list here. He was an educator and administrator, local historian, City of Frederick Alderman, sports enthusiast, and volunteer with many organizations. Bill was honored by the Community Foundation in 2003 with a Wertheimer Fellow for Excellence in Volunteerism award, for his time and energy that so greatly impacted the community. The William O. Lee Jr. and Family Endowment Fund was created to provide post-secondary scholarships and grants to help preserve African American history in Frederick County. Currently, a grant is available to organizations that provide research, restoration, archiving, and education of African American history in Frederick County. Visit www.FrederickCountyGives.orgs/Grants for details.
The Community Foundation is honored to hold these funds recognizing the achievements of these three people and be a part of preserving their contributions to our history.