Marcus Garvey said that a people without the knowledge of their history, origin and culture is like a tree without roots. Frederick County has deep roots – a fascinating and rich history – and we're fortunate to have an organization dedicated to preserving and sharing it. Executive Director Doug Propheter says Heritage Frederick "is unique – there isn't another organization in Frederick County doing what we do."
Originally known as the Historical Society of Frederick County, Heritage Frederick is a nonprofit organization that researches and shares the significant historical impact of Frederick on our state, nation and world. The organization strives to provide engaging and interactive experiences that are relevant, accessible and meaningful to all people. The Community Foundation of Frederick County provides grants to Heritage Frederick thanks to funds created by individuals committed to preserving and celebrating Frederick's history.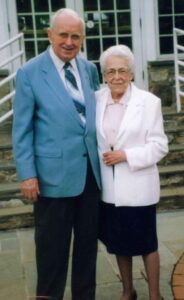 Meredith and Helen Young were lifelong residents of Frederick County. They were graduates of Frederick High School and lived well into their 90s. Retired from careers in banking, they were known for being generous with their time and resources. Meredith was active with many clubs and organizations including the Rotary Club of Frederick, the Frederick Jaycees, the March of Dimes and the A.F.&A. Masonic Lodge, to name a few. Helen was a life member of the Frederick Memorial Hospital Auxiliary and served on the board of directors for the G. Frank Thomas Foundation.
The Youngs made bequests to several organizations in their will, resulting in two funds with the Community Foundation. The Meredith and Helen Young Facilities Enhancement and Preservation Fund supports the maintenance and preservation of the Heritage Frederick buildings. The W. Meredith S. Young and Helen B. Young Scholarship Fund provides support to Frederick County students.
"We're stewards of a 200-year-old building, and as you might imagine, there are constant facility issues," Propheter said. "We also own a preservation storage facility that houses the majority of our substantial collection of documents and objects. The various funds awarded to us through the Community Foundation help defray costs … to help repair walls and ceilings, replace windowpanes, help us paint areas of the museum or archives, maintain the roof, and help us replace obsolete HVAC equipment."
Colleen Remsberg was well-known for her love of history, historic preservation and art, and her legacy lives on through her fund with the Community Foundation. Founded through her estate, The Colleen M. Remsberg Memorial Fund supports Mount Olivet Cemetery, the Historical Society of Frederick County, Evangelical Lutheran Church, and The Delaplaine Visual Arts Education Center.
"If the community stopped funding us and our stories, Frederick's history would be lost to future generations," Propheter said.
Mr. and Mrs. John D. Hendrickson II created The Parsons Newman Memorial Fund after their dear friend passed away. They said they found it "difficult to believe that future generations of Fredericktonians would have little reason to know anything about this man." As Mr. Newman was an active member and past president of the Historical Society of Frederick County and often gave historical talks, it seemed appropriate for the fund to support a lecture series that carried his name.
Generous donors empower the Community Foundation to support the important and interesting work being done by many nonprofits across Frederick County. We take great pride in partnering with individuals to help them achieve their philanthropic goals, leaving a legacy of lasting impact in ways that are important to them.
*This article ran in the Frederick News Post on Jan. 16, 2023.