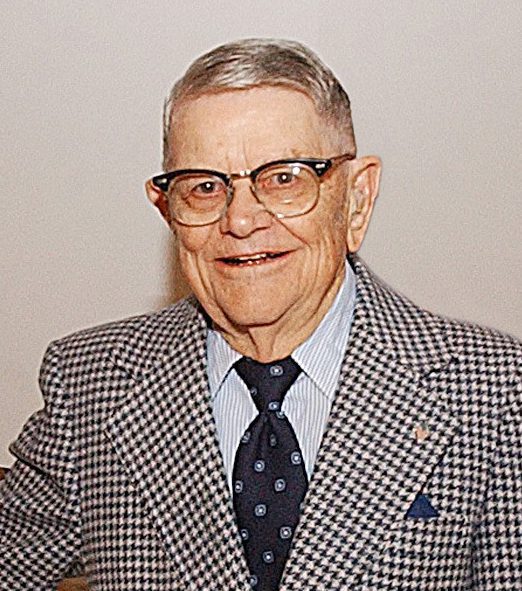 Fifteen years past his death, Jacob E. Engelbrecht is still very much alive in Frederick County. Through The Engelbrecht-DeGrange Scholarship Fund he created with the Community Foundation in 1994, eight students received scholarships through 2003. Twenty-two more students have benefited since Mr. Engelbrecht's passing in early 2004, carrying on his legacy. The educational impact of his fund surpasses $160,000.
Mr. Engelbrecht was born in Frederick County and became a certified public accountant, working in Baltimore for Ernst & Ernst for 14 years and then joining the General Accounting Office in Washington, D.C., before transferring to the U.S. Army Audit Agency. He spent an active retirement life in Frederick County after 1975 as a member of Evangelical Lutheran Church, Francis Scott Key American Legion Post 11, and John R. Webb Post 3285, Veterans of Foreign Wars.
During his lifetime, he created trusts designed to be dissolved upon his death with the proceeds supporting several of his favorite charitable causes. Part of the trust proceeds added to the scholarship fund, and other gifts from the trust were made to The Historical Society of Frederick County (now Heritage Frederick) and The National Museum of Civil War Medicine. These three gifts defined Mr. Engelbrecht's legacy as someone believing in the value and benefit of education, and who also loved history.
Frederick County history is intertwined with the scholarship fund as well. The family names "Engelbrecht" and "DeGrange" (his mother's family name) hold places in the growth and development of the County; many will be familiar with Mr. Engelbrecht's great-grandfather of the same name who kept a diary of the happenings in Frederick for 59 years from 1818 to 1878. The diary, preserved and passed down through the Engelbrecht family, has provided insight into everyday happenings in Frederick County ranging from births, marriages, deaths, and weather to local and national politics and the upheaval of the Civil War.
Mr. Engelbrecht created the scholarship fund with a focus on selecting students who demonstrate an active interest in Frederick County history, including volunteer experiences with local history and preservation organizations. While students are not required to major in history, their strong and lasting interest in our local history is a key component for consideration.
A history lover has created history by helping students with their education and will continue to do so in perpetuity. Thank you, Mr. Englebrecht, for looking ahead to help the generations that have followed you.