Overview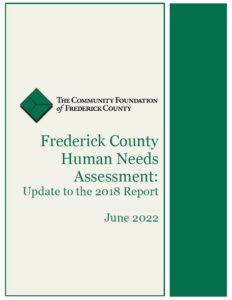 In 2018, the Community Foundation conducted a human needs assessment to shape our strategic funding initiatives for the next 10 years. Three significant areas of need were identified at that time – supporting families with children, preparing for an aging population and responding to substance use disorder.
In 2022, in response to changes brought about by the COVID-19 pandemic, the Community Foundation updated its needs assessment which has led us to also focus on several emerging areas of need – supporting access to affordable housing, addressing mental health needs and alleviating disparities in service delivery.
Data Visualization Tool
The data visualization tool allows users to examine important local, state, and national trends over the prior 20 years related to human needs in Frederick County. The visualization tool is based on the aggregation of many different official sources of demographics and statistics and serves as another common reference for ongoing efforts to serve human needs in the County. Access the data visualization tool here.