Frederick County is home to more than two dozen fire companies and hundreds of volunteer and career personnel including firefighters and EMTs. As we reflect on 9/11 and remember the heroic sacrifice of so many first responders, we want to shine a light on charitable funds created to support the most dedicated among us – those who risk their own lives to run towards chaos when everyone else is running away from it.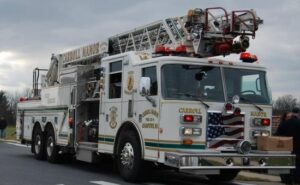 Nellie C. Page understood the critical role that fire companies play in every community. She established The Nellie C. Page Fund with the Community Foundation through a bequest to support two organizations close to her heart during her lifetime, one of which is Carroll Manor Fire and Rescue Company.
"Community support for local volunteer fire companies is critical in our ability to serve our communities," Carroll Manor Fire Company President Josh Heebner said.
Mrs. Page felt a connection to Carroll Manor Fire and Rescue Company as it was located near the Page farm and was a center of social activity for Mrs. Page. While she is no longer with us, Carroll Manor Fire and Rescue Company continues to benefit from her concern and involvement through this permanent fund.
"The Nellie C. Page Fund has provided support to the Carroll Manor Fire Company for many years and those funds allow us to maintain not only our facilities and apparatus with day-to-day operations but also procure lifesaving tools to serve our community in their time of need and the protective gear required for our volunteers," Heebner said.
The fund has been supporting the Carroll Manor Fire Company with grants since 2004, with more than $61,000 benefiting the organization in the last 5 years.
Another fund dedicated to supporting first responders, The Gene and Carolyn King Fund for Mount Airy Emergency Medical Services was created through Carolyn King's estate in 2020. Mrs. King passed away in 2019, 10 years following the passing of her husband of 42 years, Gene.
The couple lived in Mount Airy and supported the Mount Airy Volunteer Fire Department, and through this fund will continue to support the organization for generations to come. The fund supports the fire department for training, equipment, and general operating costs for providing emergency medical services.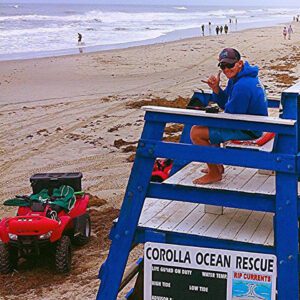 Kristopher Fielding Lewis served his Corolla, NC community as an ocean rescue specialist, volunteer firefighter and emergency medical responder. After he died in a car accident at the age of 21, his family created The Kristopher Fielding Lewis Memorial Fund to support charitable endeavors that embody his passion of selfless service.
Part of a military family, Kristopher called both Frederick and Corolla home. According to his obituary, Kris was credited with saving many lives and took great pride in protecting others from danger and helping those in need. The fund was created to support lifeguard training and support services and/or for scholarships to deserving students.
The Community Foundation is honored to partner with generous donors who had the foresight to know how important it is for a community to rally behind its first responders – through advocacy as well as financial support. Their legacy lives on through their funds that provide our local heroes with the support and resources they need to protect those who live, work and play in Frederick County.
*Published in The Frederick News-Post on 9/11/2023.