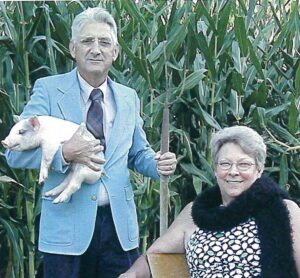 In the realm of selflessness and unwavering dedication, few individuals shine as brightly as the late Kay Sheiss. With a heart overflowing with compassion and an unyielding commitment to making a difference, Kay's service has left an indelible mark on countless lives. As we reflect upon her extraordinary legacy, we are reminded of the immense impact one person can have when driven by an unwavering desire to create positive change.
Kay had a hand in the development and success of many civic and nonprofit ventures in Frederick County over the last 40 years. She died peacefully in her home in February.
We at the Community Foundation know Kay well as she was instrumental in getting our organization up and running in the late 1980s. Working closely with Don Linton and others, Kay laid the groundwork for the Community Foundation's earliest successes in building an endowment through the Share in the Future campaign. She continued supporting the organization's efforts into the 1990s with the Community Philanthropist of the Year Award events and the creation of the Foundation's planned giving society.
"She was a dedicated worker, and she did anything for anyone," Don Linton said. "I can't say enough good things about her, she was one of a kind and she is missed by a lot of people."
Don, a leader in downtown Frederick's revitalization in the 1980s, worked with Kay on a host of projects spanning several decades.
In 2008, Don and Kay worked together on a project to build a new facility for Citizens Care & Rehabilitation Center and Montevue Assisted Living. According to her obituary, Kay oversaw the groundbreaking and opening of the new building in 2012 and she also co-authored the book "Heroic Work: The Story of Montevue" which chronicles the history of Frederick County's care for the poor and elderly.
Sonja Sperlich was first a member and later chair of the board of trustees at Citizen Care & Rehab Center/Montevue Assisted Living. She said she met Kay through their volunteer work and as was the case with many who met Kay, they became fast friends.
"Kay seemed to project authority and was a super organizer," Sonja said. "She seemed prepared for everything and anything. We seemed always to be doing things without funds, it was truly volunteer work."
Cindy Powell, the Community Foundation's first full-time executive director, said she relied on Kay's ongoing assistance and support during her years leading the organization.
"We built a great working partnership and friendship that lasted until her death this year. I miss her," Cindy said.
"In later years, when we worked together on the board of directors of Advocates for the Aging, she put the same skills to work. She was the person you wanted working alongside you at events. You could count on her without question," Cindy said.
Kay was known to be private, rarely discussing her personal life. She was married to her husband Douglas for 42 years before he passed away in 2014. Friends recall that she was an excellent cook and hostess with a keen eye for architecture and style.
Over the course of nearly four decades, Kay invested an endless amount of sweat equity – time and effort – to make Frederick County a better place. Last year we were thrilled to partner with her as she created The Kay F. and Douglas K. Sheiss Fund with the Community Foundation to honor her and her late husband and their commitment to the Frederick County community. Kay believed that the unrestricted element of the fund would provide the greatest impact and will allow their charitable intentions to be realized for generations to come.
As we remember Kay, we are reminded that the true measure of a life well-lived lies not in personal achievement, but in understanding the profound impact one individual can have on a community. Her dedication will inspire all of us.
*Published online in The Frederick News-Post on 5/22/2023.